Lychpole Bottom Historic Dewpond Restored Autumn 2014
Our sixth Sompting Estate dewpond restoration since the 1980s was successfully carried out this August, and the rains have now filled it to the brim. We are grateful to the South Downs National Park Authority's Sustainable Communities Fund for a 60% grant, and to the South Downs Society, who generously also supported an earlier pond restoration at the Downs Barn Environment Education Centre, for a c.10% grant. These grants enable us to do more for nature and heritage which everyone can enjoy.
The Lychpole Bottom Dewpond project restores a historic landscape feature, seen in the early 20th century postcard below. It also contributes a vital link in a chain of ponds providing sustainable access to water for wildlife across the dry chalk downs: linnets, yellowhammers, corn buntings and grey partridges will be among the early visitors together with dragonflies damselflies and other water lovers.
The restoration work was carried out by local company PHB Lakes & Ponds Contractors. The pond is easily visited from the Beggars Bush car park and picnic area on the Steyning Bostal Road. Two raised viewing benches (made and installed by our woods management contractors Pro Forest) have been provided on the adjacent footpath. A group of volunteers have sown wildflower seeds around the pond edge which will benefit wildlife.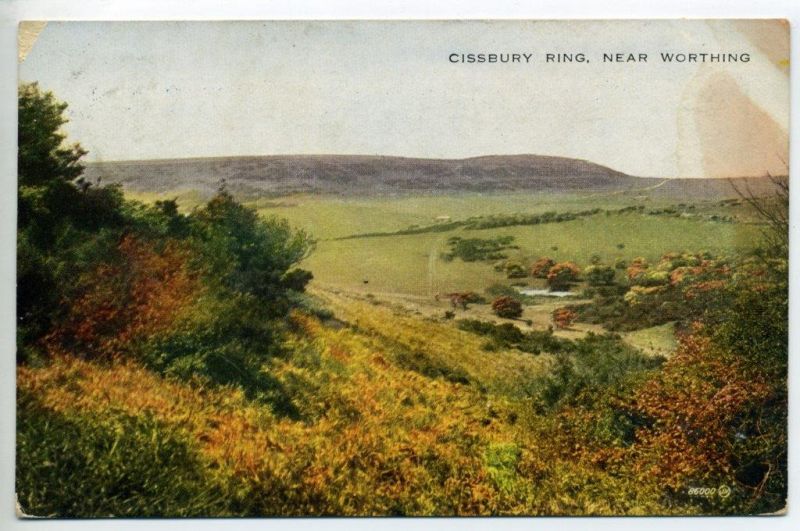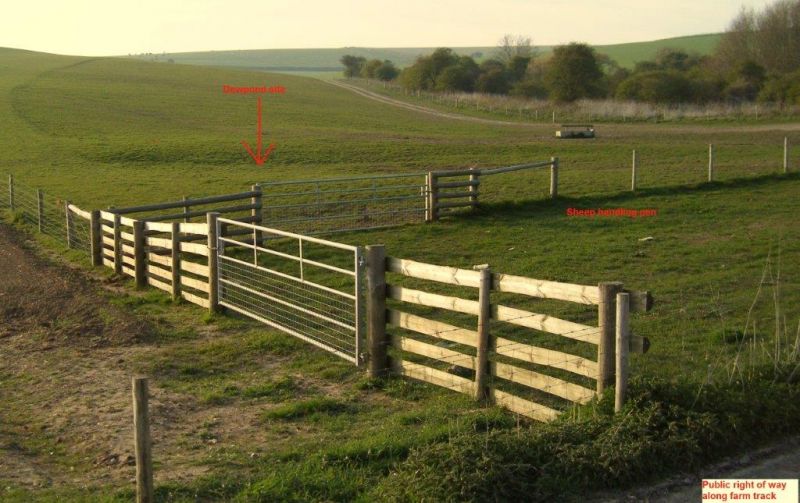 Above: the pond site in the early 20th, and early 21st centuries
Below: the pond site after restoration, about half full with water, with Cissbury ring behind.

The Sompting Estate has been restoring our historic downland ponds, both 'dewponds' and farmstead ponds, for many years:
1980s – two dewponds on our Upton Farm, funded by Natural England.
2009 - SDS funded pond at Sompting Downs Barn Environment Education Centre.
2010 – Sompting Estate Lychpole Farm restored the dewpond at Stump Bottom (funded by Natural England through HLS).
2013 – Sompting Estate restored the farmstead pond at our Dankton Barn site
In August 2014, Sompting Estate's Lychpole Farm restored the Lychpole Farmhouse cart pond, and, one of our most beautiful sites, the Lychpole Bottom dewpond. To visit the newly restored Lychpole Bottom dewpond: park at Beggars Bush Car Park on the Steyning Bostal Road, TQ 16193 07982. Walk 500m west towards Cissbury then 500m north to Lychpole Bottom TQ 15864 08544.
In October 2014, Sompting Estate's Church Farm restored the Sompting Knucker Hole, possibly originally a sink hole but in any case later inhabited by these Sussex dragons. Like all knucker-holes along the coastal strip it is bottomless and perpetually springing.

We now have a network of ponds which beautifully revive the heritage of this downland landscape. They provide water and insect food to support traditional downland birds such as linnets and yellowhammers, and also birds such as the little egret which drops in from time to time. Benches have been provided near to several of the ponds and we hope that many visitors to the National Park will come to visit and to watch the visiting wildlife.